.. ID Ref:
Date:
.. Location
.. ©
[clikcontent type=paymentBuyLink replaceable=true]
.. ID Ref:
Date:
.. Location
.. ©
[clikcontent type=paymentBuyLink replaceable=true]
------------------------------------------------------------------------------------------------------------------------------
A little about me...
My photography journey started when I was around six years old when I started to use my grandfather's camera. I have since developed my passion for photography. Particularly landscape and travel photography. Luckily I am able to combine the two. I also enjoy the unique challenge that wedding and portrait photography offers.I love capturing couples special day.
I am a Licentiate of The Royal Photographic Society, I hold City and Guilds level three qualification In Studio Portrait & Wedding Photography as well as level three in working with digital mages.
I regularly attend workshop/training courses to learn new skills and go out into the field to put them in to practice.I love to travel and capture what I have seen then share that with other people through my images.
If you are looking to license images all of my images are available for you to license. My images are also available as lab prints and are supplied ready to mount and frame to then hang on your wall at home or in the office or even to give as that unique gift. I am happy to consider commission and are available to cover events such as country shows and sports events. My work has been published in numerous publications, calendars, In the local press and has been used to enhance and illustrate website.
Anthony Rowe L.R.P.S
.
.
.
.
.
CONTACT-ME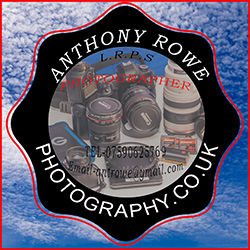 You can contact me by
Mobile 07590625769
Email
antrowe@ymail.com
Follow me on :-
INSTAGRAM
FACEBOOK
TWITTER
Leave a comment .....
.........................>>>>>>>>>